Meet Nathan
Nathan was born in Atlantic City NJ in 1943. In high school he excelled at cross country track and tennis which he still enjoys today. Upon graduating high school he entered the Navy in 1962 serving in Navy Squadron VP 49, an anti-submarine aviation squadron of P3A aircraft. He left the military in 1966 as a 3rd Class aviation electronics technician. During his time in the Navy he became an avid sailing enthusiast and continues in this sport today.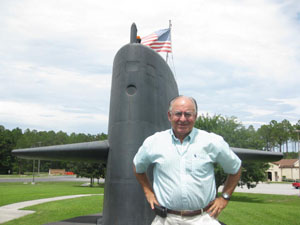 Kings Bay Sub Base
Upon leaving the Navy he attended Florida State University, Miami-Dade Jr College in Miami, Fl and Pace University in New York City.
In New York City he started his career in business selling advertising space for one of the largest trade publication companies in the restaurant industry- Bill Communications. His career in advertising also included selling radio advertising in the NY-NJ markets. By his mid 30's he was publishing his own magazines in the yachting industry.
From his early 40's until his retirement a few years ago Nathan owned and managed his own "Property Search-Property Appraisal" company in New York City. His customer base was representative of all the major banks in the USA and his company performed property searches and property appraisals in almost every state in the nation.
In 2008 Nathan closed his business , retired and moved his primary residence to St Simons Island, Glynn County Georgia where he has had a vacation home for 23 years.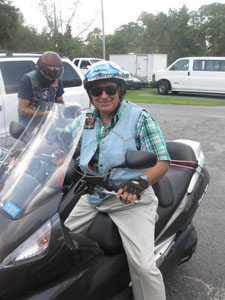 Nathan is a member of the Christian Motorcyclist Association (CMA)
After his retirement Nathan began visiting Thailand and Vietnam as the result of experiences he had in his life while living in Miami during the Vietnam war. In the last 2 years he has spent considerable time in both of these countries participating in many charitable projects from building a school on a 6,000 ft mountain top on the Thai-Laotian border , delivering much needed medicines to a Burmese refugee clinic in Mae Sot Thailand and raising funds to build an orphanage for young children outside Saigon, Vietnam. He learned to ride a motorbike in Thailand , owns a Honda Silverwing here in Georgia and belongs to the Judah Riders chapter of Christian Motorcyclists Association.
Nathan has been a long time critic of America's policies foreign and domestic. He was against the Iraq war and America's weak efforts to put more pressure on ASEAN countries (SE Asia countries ) to reign in the actions of the oppressive Burmese government which over the last few years verge on genocide against it's own people.
Domestically Nathan is a fiscally conservative, socially progressive Democrat. He believes we should get the fat out of all areas of the federal government but not at the expense of our children, senior citizens, education or our healthcare system. That being said he believes that "Medicare" itself has a lot of fat that can be trimmed without minimizing the benefits to our senior citizens. He believes in the "Public Option" and he believes the federal government must start negotiating with the pharmaceutical companies to lower the cost we spend on medicines.
Port of Brunswick-6th largest auto port in U.S.
Nathan wants to be the next Congressman of Georgia Dist 1 because first and foremost he believes he knows better than the current congressman what it will take to bring jobs back to southeast Georgia and all of America. And the answer does not lie with more wars.
The election in 2012 is not about any one individual- it is about public works jobs and meaningful government- private industry partnership projects that will boost the manufacturing base in GA Dist 1. It is in technology grants to medium size companies to allow them to develop better ways to manufacture their products. Our medium size companies in southeast Georgia and throughout the country are in desperate need of special financing packages that neither banks nor the SBA can help them with- a new program needs to be developed for these companies. Just like we could not allow the car manufacturers or the big banks to go out of business, we can not allow the back bone of American employment to go out of business.
We can do it now........ We can do it together